PERFUME: THE STORY OF A MURDERER (Tom Tykwer)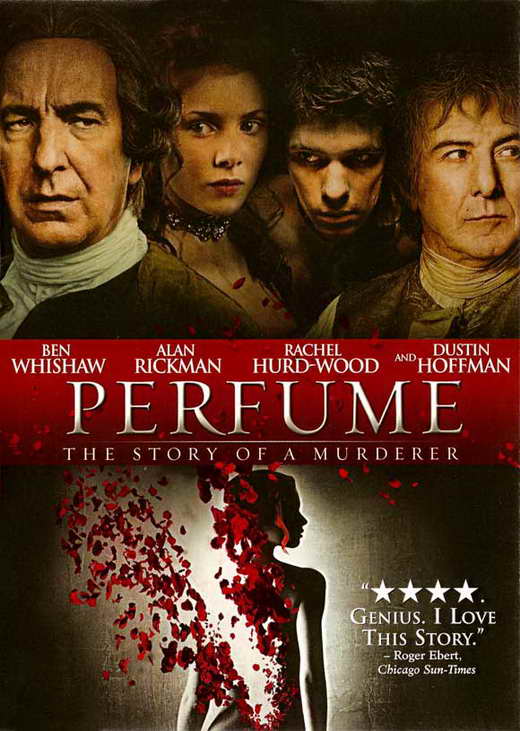 PERFUME is a dark, twisted and at times, disarming descent into man's obsessions and most basic instincts. Sure, it is a film unlike any other, and could even be called overly ambitious for its grandiose scope. My concern about this feat by German director Tom Tykwer, based on the novel by Patrick Suskind, is that there's just too many ideas springing left and right, and of course, the love it-or-hate it ending, which to me was somewhat off-key and bizarre.
If there's anything to praise in PERFUME, it's the breathtaking, edgy performance by Ben Whishaw as the sociopathic, unrelenting Jean-Baptiste Grenouille, the story's antihero. That, and the lavish production design and cinematography.
I had a hard time convincing myself about the appropriateness of Dustin Hoffman as Grenouille's mentor, Giuseppe Baldini. The character is an Italian living in France for quite some time, but Hoffman's accent is neither Italian nor French. If at all, Hoffman overdid it.
Rachel Hurd-Wood plays Laura, daughter to Alan Rickman's Richis, a wealthy citizen of Grasse, France. I can barely recall anything about Hurd-Wood. She was there simply as eye candy, and not very memorable at that. Rickman on the other hand is compelling in just about any role.
PERFUME generates enough suspense to keep me hooked. Tykwer exercised delicate care in mounting his scenes, expressing in vivid detail Grenouille's obsession— we are able to enter Grenouille's psyche and not easily dismiss him as a criminal. The scene where Grenouille devours the scent of a plum girl (Karoline Herfurth) is wildly avant-garde. The obsessive nature of what's going onscreen is just too addictive to ignore.
In the end, the film sends a message to us regarding our murderer stereotypes. It also gives the finger to the church and religion (but that's just a subtext), but I think what PERFUME really wants to emphasize is liberation.

Like the characters in the ooops-you-probably-didn't-see-that-coming climax, we the audience are liberated as well. The question of morality is not exactly a hard one, but rather contemplative, and suddenly Machiavellian ideology presents itself.
PERFUME is a scary tale, heightened much so by its unforgettable antihero. I am just saddened by the ending, which I found to be non sequitur.