IT COULD HAPPEN TO YOU (Andrew Bergman)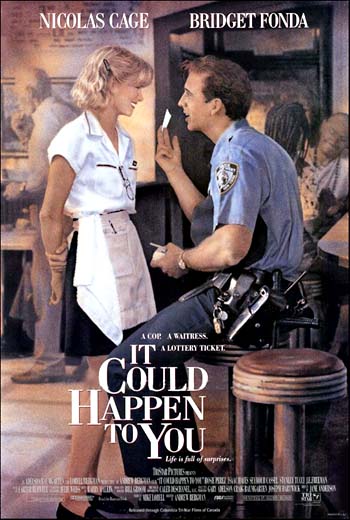 IT COULD HAPPEN TO YOU is one fresh surprise. The story is compelling enough to glue you to your seat, and Nicolas Cage and Bridget Fonda have a radiant chemistry, like soulmates finally in touch with one another. Though this film has been released over a decade ago, it still has timeless charm that defines the term "feel-good film" in all aspects.
Discussing issues of ambition, luck, and fate, though at times the story feels too convenient to the point of being contrived, IT COULD HAPPEN TO YOU involves a good-hearted cop, a good-hearted waitress, an irritating wife, a lottery ticket, and an enigmatic narrator.
When Cage's cop character has no money left to leave a tip to Fonda's waitress character, he tells her if he wins the lottery he will split the proceeds 50/50 with her; otherwise, he will return the next day and leave a tip. The expected happens: he wins!
The cop's wife played by Rosie Perez screams in joy, but not until she learns of the waitress.
I haven't really seen any film by Bridget Fonda, aside from KISS OF THE DRAGON with Jet Li, which is forgettable. This performance is very light and memorable. Her waitress portrayal is full of energy.
For me the real highlight of the movie is the courtroom drama, and the unexpected plot twist that surely tugged at my heart strings.
This is one film you'd like to keep nearby during the cold weekends. I saw a snippet of it on TV, and the next day I saw the DVD and bought it right away.
RATING: 5/5